New Members Join the CuyEast Chamber!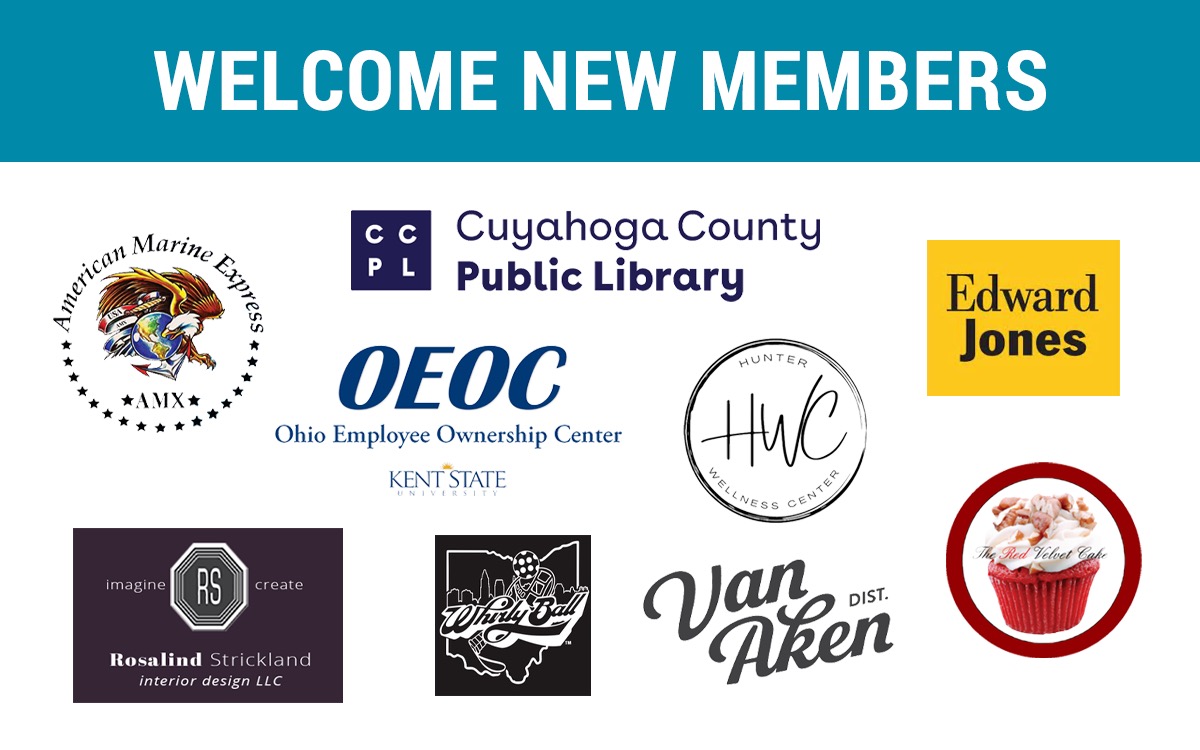 The Cuyahoga East Chamber of Commerce is excited to welcome eight new members invested in business advocacy and more opportunities for business growth! Please welcome and support the following new members:
Ohio Employee Ownership Center
The Ohio Employee Ownership Center is a non-profit outreach center of Kent State University that supports business development across Ohio and worldwide through its proven efforts to save jobs, create wealth, and grow the economy.
Whirlyball Cleveland is located in Bedford Heights, OH. From WhirlyBall to bowling, laser tag, and virtual reality, their vast range of activities has offered something fun for everyone in the family or corporate group outings in the Northeast Ohio community since 1987.
Rosalind Strickland Interior Design LLC
Rosalind Strickland Interior Design LLC's mission is to create a living environment that can uplift you and give you energy when you need it—yet is calm and restful when you want it—making Cleveland community homes a nurturing place to come home to at the end of the day to relax and enjoy.
The Van Aken District is the largest single-construction project in Shaker Heights history. Featuring The Market Hall, a unique concept featuring many local artisans and restaurants, curated shopping experiences, regular pop-up events, and more.
The Red Velvet Cake is located in Maple Heights, OH. Their products are baked with the finest ingredients. The Red Velvet Cake has been certified by the State of Ohio under its MBE and EDGE programs, and they are looking forward to meeting your personal and business-to-business needs.
American Marine Express Inc. is a customs-bonded common carrier in Cleveland, Ohio, dedicated to driver satisfaction and customer service. The staff is well-versed in many facets of the transportation industry, including Intermodal drayage, local/regional cartage, and over-the-road trucking services.
Hunter Wellness Center in Warrensville, OH, offers drug-free services to satisfy your healthcare needs. Whether you are looking for sustainable Weight Loss, Gut Health, Neuropathy, or Chiropractic Services, their amazing team is here to serve you and get you results!
Edward Jones Investments – Sharron Shaw: Financial Advisor
Edward Jones Investments in Highland Heights, OH, is an investment firm that believes your financial goals deserve a face-to-face conversation. They can help you prepare for retirement, save for education, and be a tax-smart investor.
Cuyahoga County Public Library – Maple Heights Branch
The Maple Heights Branch serves as the headquarters for Aspire Greater Cleveland, a nonprofit organization that provides free comprehensive adult education services in Cleveland and throughout Cuyahoga County in collaboration with Cleveland Public Library, Cuyahoga County government, and Cuyahoga County Public Library, with support from the Ohio Department of Education's Aspire program.
Ready to become a member of the CuyEast Chamber? Click here to join today!
Share This Story, Choose Your Platform!
If you enjoyed reading this, then please explore our other articles below:
With a CuyEast Sponsorship you'll benefit by unparalleled exposure and influence to a diverse audience, comprised of entrepreneurs, small [...]