McHenry & Associates, Inc.
25001 Emery Road Suite 200, Warrensville Heights, Ohio 44128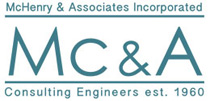 Our firm is a continuation of the professional engineering practice of Menster, McHenry & Associates and Paul C. Menster and Associates, which was organized in 1960 to provide consulting engineering and design services in northeast Ohio. In 1986, Paul Menster retired and McHenry & Associates, Inc. was established, setting the foundation for our current organization. Over the course of many years, we have experienced continuous growth to a mid-sized firm that is versatile, innovative and client-focused.
We take pride in the fact that our company has grown and remained in successful operation based primarily on repeat business from client referrals. We have a loyal, dedicated staff with the education and experience to achieve consistent results. Our people are the reason why our clients keep coming back. We are strongly committed to carrying forward the high standards on which our firm was built, as well as continuously improving our business for our clients and for the community as a whole.
Opening Hours
Tuesday
8:00 am - 5:00 pm
Wednesday
8:00 am - 5:00 pm
Thursday
8:00 am - 5:00 pm
Search for other great CuyEast Chamber Members