I'm Experimenting with AI – Give me 25 often overlooked ways to grow my small business.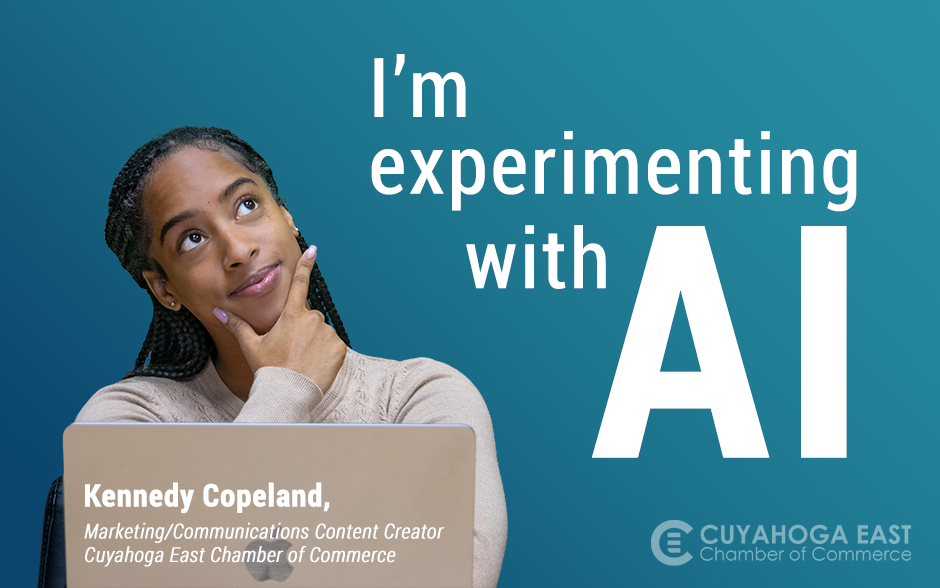 Welcome! I'm a 2023 Cum Laude graduate from The University of Toledo. Go Rockets! Two weeks ago, I earned the Marketing/Communication Content Creator position for the CuyEast Chamber. Happy to be here! Lots to learn!
In my content creator role, I've been assigned the task of creating useful content for our business audience, focusing on tips or advice on business growth. I've discovered that AI has become an influential component in my world, specifically in what I do daily. So I asked Chat GPT to assist me.
As you may know, Chat GPT is an AI (Artificial Intelligence) language model developed by OpenAI. The key to using Chat GPT effectively is the use of prompts. A Chat GPT prompt is a piece of text you provide as an input to elicit a response. The prompt serves as the starting point or instruction for the model to generate a meaningful and relevant continuation.
Here's the prompt I used, "Give me 25 often overlooked ways to grow my small business." It took Chat GTP no more than 10 seconds to give me this response:
Build Strong Relationships: Always remember that your customers, suppliers, and employees are the lifeblood of your business. Keep these relationships strong and mutually beneficial.
Master SEO: Many businesses overlook the power of search engine optimization (SEO). Learn to leverage SEO and boost your website's visibility online.
Local Partnerships: Collaborate with other local businesses for joint promotions or events. It's a great way to expand your reach in your local community.
Webinars and Online Workshops: Offer free webinars or workshops on topics relevant to your business. This can position you as an expert in your field and attract new customers.
Referral Programs: Incentivize your existing customers to refer your business to others. Word-of-mouth is a powerful tool that often gets overlooked.
Utilize Social Media: Use various social media platforms to build a brand presence and engage with your audience.
Use Email Marketing: Send out regular newsletters or promotions to your customer list. Just make sure you're providing valuable content, not just sales pitches.
Network: Attend industry conferences, community events, and business networking groups. Networking is a powerful tool for finding new customers and opportunities.
Focus on Customer Service: Excellent customer service can make you stand out from the competition and keep customers coming back.
Host Events: Whether online or in-person, hosting events related to your business can draw in potential customers.
Influencer Marketing: Collaborating with influencers in your field can help you reach a larger audience.
Charitable Involvement: Support local charities or causes. This is not only a good thing to do but can also raise your business's profile.
Content Marketing: Regularly create valuable content (blog posts, articles, videos, etc.) that provides value to potential customers and showcases your expertise.
Revisit Your Pricing Strategy: Ensure your pricing is competitive and reflects the value you're offering. Sometimes, raising prices can signal higher value.
Optimize Your Website: Ensure your website is user-friendly, mobile-optimized, and has clear calls to action.
Employee Training: Invest in training your employees to improve their skills and productivity.
Google My Business: Keep your Google My Business page updated with accurate information, photos, and respond to reviews.
Create a Loyalty Program: Rewarding your repeat customers can encourage more frequent purchases and higher customer retention.
Expand Your Offerings: Can you offer new products or services that complement what you already sell?

Invest in Your Branding: A professional, recognizable brand can help you make a strong impression on potential customers.

Automate Where Possible: Use software tools to automate repetitive tasks and save time and resources.
Diversify Marketing Efforts: Don't put all your eggs in one basket. Try different marketing channels and tactics to see what works best for your business.
Public Relations: Small-scale PR, such as press releases and guest articles in local publications, can raise awareness of your business.
Targeted Advertisements: Use targeted ads on platforms like Google, Facebook, or Instagram to reach a specific demographic.
Track Metrics: Make data-driven decisions by tracking important metrics. Identify what's working and what's not, and adjust accordingly.
I invite you to join me on my 25-part series as Chat GPT, and I will go more in-depth about each of these tips! Using the form below, be sure to give me your feedback on the tips, using Chat GPT, and if there's a tip Chat GPT missed. You can also reach me at Kennedy@cuyeast.org.
Share This Story, Choose Your Platform!
If you enjoyed reading this, then please explore our other articles below:
We're launching in 2022 as a next-generation, future-ready Chamber of Commerce. CuyEast members get more with a growing list of [...]