Welcome Sydney Rosebrough to the Shaker Heights Business Leadership Council!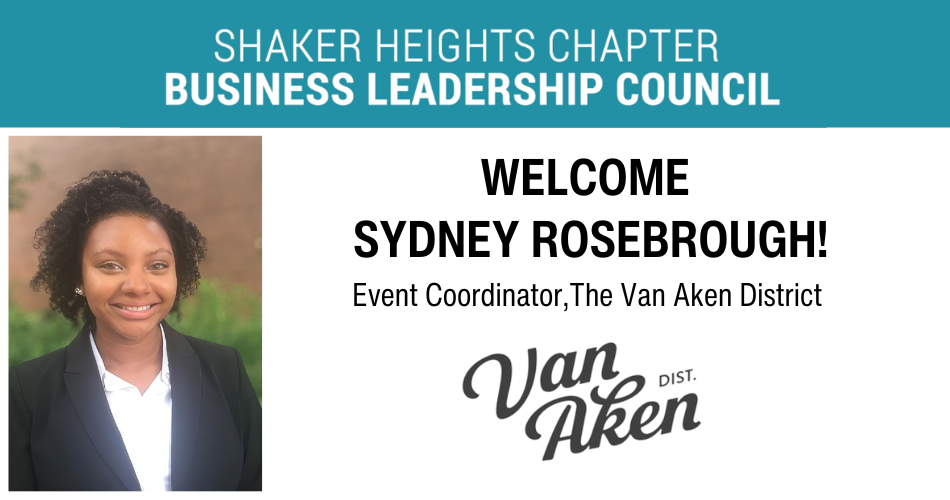 We welcome Sydney Rosebrough, Event Coordinator at The Van Aken District, as the third Shaker Heights Business Leadership Council member! Sydney Rosebrough is the Event Coordinator for the Van Aken District in Shaker Heights, OH. As a Temple University's Sport, Tourism, and Hospitality Program graduate, Sydney puts hospitality at the forefront of every decision she makes. That's why, in her current role, Sydney continuously works to produce programming and events that bridge gaps and engage folks across every demographic. Whether it be the large block parties, storytimes, community workout classes, and so much more- Sydney works hard to ensure everyone is represented in the District.
When asked about her new position with the CuyEast Chamber, Sydney said, "I wanted to join the CuyEast Business Leadership Council board because I am continually trying to think of new ways to grow and support our community. I like to stay connected and amongst like-minded individuals who are trying to change the world for the better."
Sydney's passion for innovation and community growth are welcome additions to the Business Leadership Council. We look forward to her dedication to business growth in the Shaker Heights Community.
Are you interested in joining the Business Leadership Council for the Shaker Heights Chamber Chapter? Any member with a business in the city of Shaker Heights can take on a Chamber Chapter leadership role! Click here to join CuyEast Chamber today.
Share This Story, Choose Your Platform!
If you enjoyed reading this, then please explore our other articles below:
With a CuyEast Sponsorship you'll benefit by unparalleled exposure and influence to a diverse audience, comprised of entrepreneurs, small [...]