"Event Hosting: Small Business Growth" – I'm Experimenting with AI series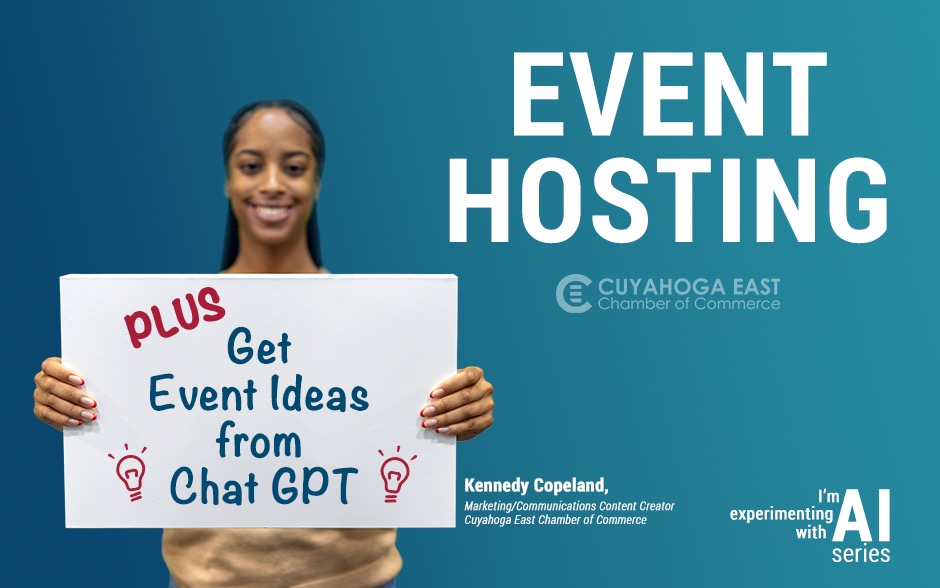 Welcome back to my series, "I'm Experimenting with AI – Give Me 25 Overlooked Ways to Grow Your Small Business." If you missed my original post, where I talked about my experiment, Chat GPT, and prompts, you'll find it here. You can sign up for a Chat GPT account here.
This week, I asked Chat GPT to write a blog post expanding on item #10, Host Events, from Chat GPT's original list of 25 Overlooked Ways to Grow Your Small Business. To experiment more with Chat GPT, I decided to ask Chat GPT to give me 6-holiday event ideas for a cupcake shop that included a themed title and a short marketing blurb in celebration of The Red Velvet Cake joining the CuyEast Chamber.
I wrote the following prompt, "Write an article about the importance of Hosting an Event as an often overlooked way to grow a small business. Use approximately 600 words and write in a conversational writing tone." After this, I followed up with an additional prompt, "Based on the above, give me 6-holiday event ideas for my cupcake shop. For each included a themed title for the event and a short marketing blurb I can use on the invitation that will attract guests."Below, unedited, is what Chat GPT gave me.
While I'll look for our readers to provide accurate feedback, I checked for plagiarism using Grammarly.
Event Hosting: Small Business Growth
Hey, small business owners, listen up! We all know running a small biz isn't a cakewalk. You've got a million things on your plate. Ads, social media, customer service—you name it. But have you considered influencer marketing? It's not just for the big dogs, you know. Here's why it should be on your radar.
Hosting an event may not be the first strategy that comes to mind when brainstorming ways to grow a small business, but it's an avenue with untapped potential. The importance of this approach lies in its multifaceted benefits, which can lead to both direct and indirect growth opportunities for businesses willing to invest the effort.
Firstly, hosting an event creates a platform for personal interaction, which is invaluable. In an era where digital presence is paramount, the power of face-to-face networking is often underestimated. When customers and clients can associate a business with real people, trust is built at a faster pace. Events provide a space for small businesses to showcase their personality, values, and commitment to customer service. This isn't just about shaking hands and exchanging business cards; it's about creating a memorable experience that attendees will associate with your brand.
Furthermore, events are a showcase for your products or services. It's an opportunity to demonstrate the value of what you're offering in a live setting, which can be far more persuasive than any advertisement or marketing pitch. Live demonstrations or interactive sessions allow potential customers to experience the benefits of a product or service firsthand, leading to higher conversion rates.
Moreover, events are a great way to generate buzz and content. In today's content-driven market, an event provides plenty of material for social media, blogs, newsletters, and press releases. Sharing the buildup to the event, the happenings on the day, and the follow-up can engage not just attendees but a broader audience online. This kind of content can improve search engine rankings, increase social media engagement, and enhance overall visibility.
Additionally, hosting an event can position a small business as a leader in its field. By organizing an event focused on a particular industry topic or trend, the business can establish itself as a thought leader. This can attract partnerships, sponsorships, and attention from industry influencers who can further amplify the business's reputation and reach.
There's also the potential for community building. Regular events can foster a sense of community among customers and clients, which can lead to a loyal customer base. For small businesses, loyal customers are the backbone of sustained growth, as they not only provide consistent revenue but can also become brand advocates.
Events also provide an opportunity for market research. Interacting with attendees gives direct feedback on your offerings and customer needs, which is a goldmine for any small business looking to tailor its products or services to market demands.
Financially, events can be a direct source of revenue, whether through ticket sales, sponsorships, or on-the-day purchases. While there's an upfront cost, the long-term return on investment, when done correctly, can be significant.
Lastly, hosting an event can be a learning experience for the business. It can highlight strengths and expose areas needing improvement, which is critical information for any growing business.
In conclusion, while hosting an event does require planning and resources, the potential benefits are significant. From networking to marketing, industry positioning, community building, market research, and direct revenue, events can serve as a powerful catalyst for growth. So, for small businesses looking to expand their horizons, it might just be time to step into the spotlight and host an event.
Here is a list of 6 Cupcake Shop Holiday Themed Events
"Cupcake Wonderland" – A Festive Decorating Party
Join us at [Your Shop's Name] for a sprinkle of joy and a whole lot of frosting at our Cupcake Wonderland event! Dive into the holiday spirit as you decorate your own cupcake masterpieces. With endless toppings and a cup of cheer, create the sweetest memories this year!
"Jingle Bell Rock-and-Roll" – Retro Cupcake Social
Rewind to the fabulous '50s this holiday season with our Jingle Bell Rock-and-Roll at [Your Shop's Name]! Rock around the Christmas tree as you savor our retro-themed cupcake creations. Dust off your poodle skirts and leather jackets – it's time to twist, sip, and indulge!
"Cupcakes & Carols" – A Musical Mingle
Let the harmonies of the holidays guide you to [Your Shop's Name] for an enchanting evening of Cupcakes & Carols. Delight in our harmonious selection of holiday treats while local choirs fill the air with festive tunes. Bring your friends, sing along, and taste the magic of the season!
"Merry & Bright" – Cupcake Candle Night
Illuminate your holiday cheer at [Your Shop's Name] with our Merry & Bright Cupcake Candle Night. Enjoy a cozy evening where each cupcake comes paired with a twinkling candle to light up your night. Sweet flavors and warm glows await – let's set this holiday season aglow!
"Elf's Delight" – Kids Cupcake Camp
Calling all junior bakers to [Your Shop's Name] for an Elf's Delight Cupcake Camp! This holiday break, treat your little elves to a day of cupcake fun. They'll mix, bake, and decorate while making memories – and delicious treats – to take home!
"New Year, New Flavors" – Cupcake Countdown
Ring in the New Year with a taste of what's to come at [Your Shop's Name]! Join our Cupcake Countdown and be the first to try our exclusive new flavors for the upcoming year. Celebrate new beginnings and sweet adventures ahead – one cupcake at a time!
Thank you for taking the time to join me in my experiment. I look forward to continuing in this series. Using the form below, give me your feedback on my experiment using Chat GPT and suggestions on writing better prompts. You can also reach me at Kennedy@cuyeast.org.
Share This Story, Choose Your Platform!
If you enjoyed reading this, then please explore our other articles below:
With a CuyEast Sponsorship you'll benefit by unparalleled exposure and influence to a diverse audience, comprised of entrepreneurs, small [...]