An Outlook for Businesses in 2023, and How To Get Ahead of the Game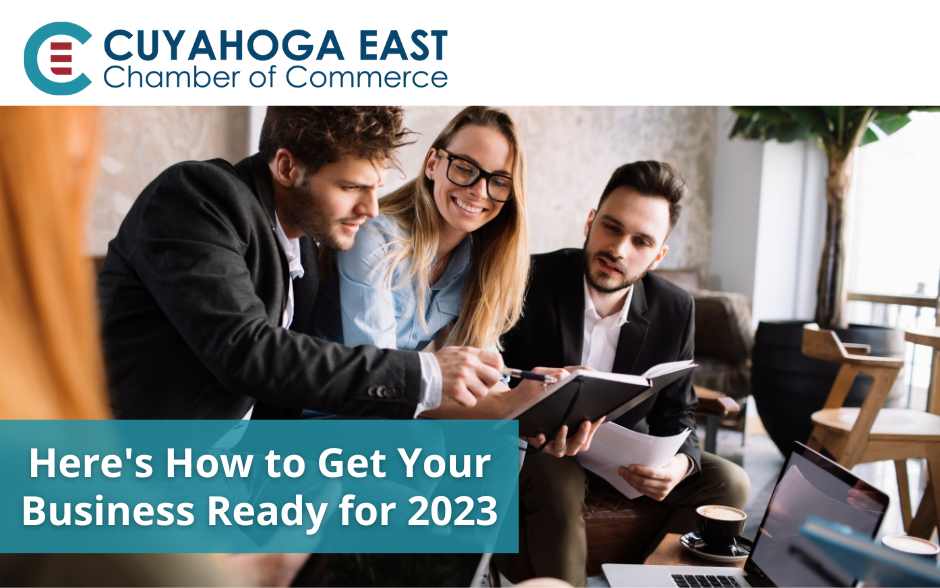 Businesses get a chance to try new things and put a halt to inefficient processes when a new year comes around. Before January hits, businesses often take the time to reflect on what went right and what didn't go so great over the last year. Some owners may make adjustments to add more benefits to their business, or they may find themselves removing pieces that aren't helping their bottom line. Let's take a look at some of the good things coming down the line for businesses in 2023, what to look out for next year, and how owners can get a jump on a new year of success.
Benefits coming to businesses in 2023
The Inflation Reduction Act (IRA) signed into law back in August has a few benefits for small businesses and working families, according to Forbes. The legislation is focused on deficit reduction, increasing manufacturing, lowering drug prices, and taxing wealthier corporations. How will this result in benefits for small businesses across the country? Here's what Forbes says:
Taxes

: The legislation "invests" in small businesses and working families instead of raising taxes on them. Businesses or families making under $400,000 will not see an increase in taxes. That's 98% of the American population.

Tax Credit:

The IRA increases the refundable research and development tax credit for small businesses from $250,000 to $500,000. The credit can go towards payroll taxes and business expenses.

Energy

: The investment the legislation makes in clean energy will help businesses afford more sustainable energy alternatives, such as heat pumps and rooftop solar panels.
Also, here's a great resource from NerdWallet on federal, state, and private small-business grants you can apply for in 2023.
Hangups coming to businesses in 2023
To succeed in 2023, businesses need to be proactive and have some foresight into what issues may come down the line in the new year. Forecasting can help owners make adjustments to their business models to ensure they can weather any oncoming storms. 
Wix takes a look at a few small business challenges that will linger on into 2023:
This year,

82% of businesses have raised prices due to inflation

. Some businesses tried buying just enough inventory to cut costs, but that often resulted in big adjustments to business models and operations. 63% of business owners altered their supply chain operations in 2022. These trends are likely to continue due to ongoing supply chain disruptions.

Hiring will continue to be an issue into 2023.

The Great Resignation created a huge shift across workforces everywhere, and workers' top values when it comes to their careers are changing. Lack of childcare, fear of illness, and remote work are just a few areas that amplify hardships with employee recruitment and retention.

Increasing brand awareness helps, but only if the customers are engaged

. To keep customers engaged, small businesses need the bandwidth in their teams to be consistent with social media, marketing, and outreach efforts. Brand awareness will continue to be important in 2023, and it will be up to business owners to find the time and talent to stay engaged with their audiences.
Plans to put into action in 2023
Growing a business in 2023 is going to take some out-of-the-box thinking. Business owners may find themselves testing the waters with new social channels or discovering new ways to engage with their audience by trying some of these ideas from HubSpot.
Use social media as a customer service tool

. One way to grow your online presence on social media is to show your audience that you are engaged in more ways than one. Allowing current and potential customers to message you about your products or services will help them feel more connected to your brand.
Make plans to be more socially responsible.

In 2022, 45% of marketers planned to invest in social responsibility content. For 2023, that number is increasing to 89%. A HubSpot report discovered 50% of Generation Zers and 40% of Millennials want companies to take a stance on social issues, specifically racial justice, LGBTQ+ rights, gender inequality, and climate change. These groups are more likely to purchase from a company that openly advocates for these topics.

Align the marketing and sales teams.

If your business' marketing department is completely separate from your sales team, fixing this should be a high priority in 2023. When sales and marketing work together, both groups can get a more complete picture of their customers interests, hobbies, and demographics. The more they know about the audience and what they are passionate about, the better. Without some level of integration between the two departments, important data that could turn into a big growth opportunity can get lost. In 2022, 1 in 5 marketers struggle with his issue. In 2023, don't let it be you.
What business tips do you have to share with CuyEast Chamber members to ensure a successful 2022? Share your thoughts on Facebook and Linkedin.
Share This Story, Choose Your Platform!
If you enjoyed reading this, then please explore our other articles below:
We're launching in 2022 as a next-generation, future-ready Chamber of Commerce. CuyEast members get more with a growing list of [...]