How Small Businesses Grow During Back-to-School Season Without Selling School Supplies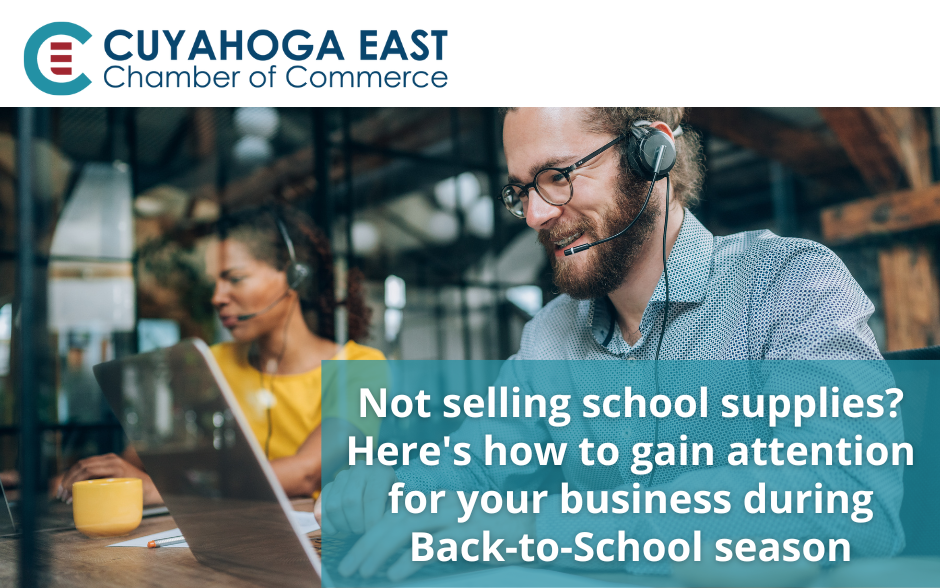 How Small Businesses Grow During Back-to-School Season Without Selling School Supplies

August hits and the back-to-school fever begins. While retail shops can deck their stores with school-related supplies, other business owners may be wondering how they can capitalize on one of the most popular consumer seasons of the year.
In an article from Journal & Courier, a study by Savings.com says parents expect to spend near $700 on average for school supplies for the 2022-2023 school year. If you are a business owner that doesn't sell everyday school essentials, some creativity will need to come into play if you want to tap into this consumer group.
What can you offer other than school supplies?
Yes, parents are looking for notebooks, pens, and pencils, but they also need other solutions that may not be at the top of mind if it's not sitting in front of them in a store. Nextdoor says helping parents find the right resources they need can be one avenue to take if you don't sell typical school supplies.
Look at Best Buy. The consumer electronic retailer offers buying guides, computer matching, and special deals to grab attention from customers. Some of the free resources it provided during back-to-school time included information on how to improve a Wi-Fi connection, how to increase computer speed, and how to set up a home office.

Here are some other examples from Nextdoor:
Mechanics can offer discounts on tune-ups or offer deals on rear-view cameras for those families that have home-to-school commutes.

Real estate agents can tap clients on the shoulder and remind them that a new home and a new school district may be just what they need.

Hair salons can offer back-to-school haircut promotions, and spas can offer parents a relaxation package.
[Read the full Nextdoor article here.]
Consider Cross-Promotion
Back-to-school shopping is second only to winter holiday shopping, according to Smartbiz. A collaborative effort with a business that does sell school supplies can be your company's way to reach back-to-school consumers. 
Smartbiz shares these suggestions:
Offer a special bundled deal or discount

Come together to sponsor a back-to-school-themed event

Share advertising costs highlighting both businesses

Work with a company that makes promotional swag and create your own branded water bottles, masks, branded pencils, and more.
[Read the full Smartbiz article here.]
How creative can you get? Share your Deals & Discounts with CuyEast Chamber using this form. We'll share your information on our website, through our weekly emails, and on social media.
Share This Story, Choose Your Platform!
If you enjoyed reading this, then please explore our other articles below:
We're launching in 2022 as a next-generation, future-ready Chamber of Commerce. CuyEast members get more with a growing list of [...]