How to Rebrand Your Business for Success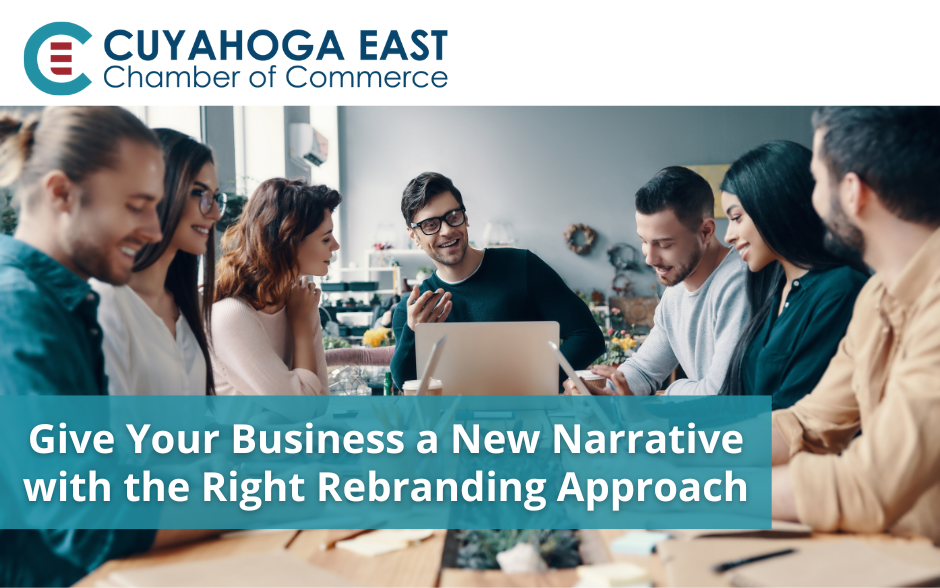 Your business' brand encompasses your positioning, values, personas, and messaging. If you feel like you are not connecting with your audience, you may need to refresh your brand strategy. This can look like a change to your logo, vision, mission statement, and more. If you're considering a rebranding for your business, keep reading for a better chance at a successful transition.
What is rebranding?
To be successful, your brand needs to stay relevant and relatable to your target audience. If you find your brand is missing the connection, changes may need to be made. Here are a few reasons from Forbes why it may be a good time to rebrand: 
The brand needs to

reflect who the company is today and where it wants to go in the future.

A culture shift

inside or outside the organization has changed and impacted the current brand strategy.

Some companies just need a change, whether it be from

reputation discrepancies or an update in leadership

. 
Getting Ready to Rebrand
If a rebranding is in your business' future, there are a few things you should be aware of before you get started. Rebranding will involve some analysis of your business' mission and values, as well as some important decisions that will need to be made. For those decisions, you may want to include input from employees organization-wide, which can lead to further research and analysis. Forbes shares what to look forward to during the rebranding process:
You will need to be patient.

The rebranding process will not happen overnight. It will take time, feedback will need to be assessed, and there may be design changes as well. Remember the importance of the impact a new brand will make if you start to get restless. 
Support from your team will make the transition easier.

Having buy-in from your leadership and employees shows they are willing to be engaged in the rebranding process. This is also a good way to weave the new branding into daily routines.
Plan on making an investment

. It will cost your business money to rebrand, and all the things that will need to be changed will need to be taken into consideration. This can be costly, but it can also be a better option than sticking with a brand that is not working for your business.
What do you need to rebrand?
These tips from The Inspiring Journal outline what you can do to better prepare your team for the rebranding process. There will be several steps to take to accomplish your rebranding goal, and here are a few examples of what is to come. 
Complete a brand audit by asking yourself these questions:

How is your brand fairing in the digital world?

What is your digital marketing ROI (return-on-investment)?

Which channels could be good to add based on your target audience?

Solidify your rebranding plans by documenting the strategy with detailed step-by-step instructions. This is a good opportunity to outline your goals and discover what changes need to be made for your brand to be successful.

Design a detailed rollout plan for customers. Ask yourself:

How fast are you releasing changes? Is it staggered or all at once?

Which channels will be notified first?

What's the first piece of new content coming out with your rebrand?
[Read more from The Inspiring Journal here…]
Rolling Out a New Brand Internally
Reaching your external target audience is, of course, a high priority, but so is ensuring your team believes in the rebranding as well. AgilityPortal outlines a few things to be mindful of when rolling out the new brand strategy internally:
Use the right rebrand messaging

. Make sure the same messages are being communicated with customers and employees.

Create engaging visuals

to tell a story and share your brand's new narrative.

Find ways to

empower employees

to boost awareness of the rebranding.

Monitor the release of the new brand and consistently reinforce the messaging.

As you receive new employees and, potentially, more customers, ensure the right messages are uniform across all channels internally and externally. 
[Read more from AgilityPortal here…]
Need help promoting your business' rebranding? CuyEast Chamber members get to publish their content on our website and through our social channels as a perk to their membership. Click here to share your content with our audience!
Share This Story, Choose Your Platform!
If you enjoyed reading this, then please explore our other articles below:
We're launching in 2022 as a next-generation, future-ready Chamber of Commerce. CuyEast members get more with a growing list of [...]