"Why You Shouldn't Overlook Influencer Marketing for Your Small Biz" – I'm Experimenting with AI series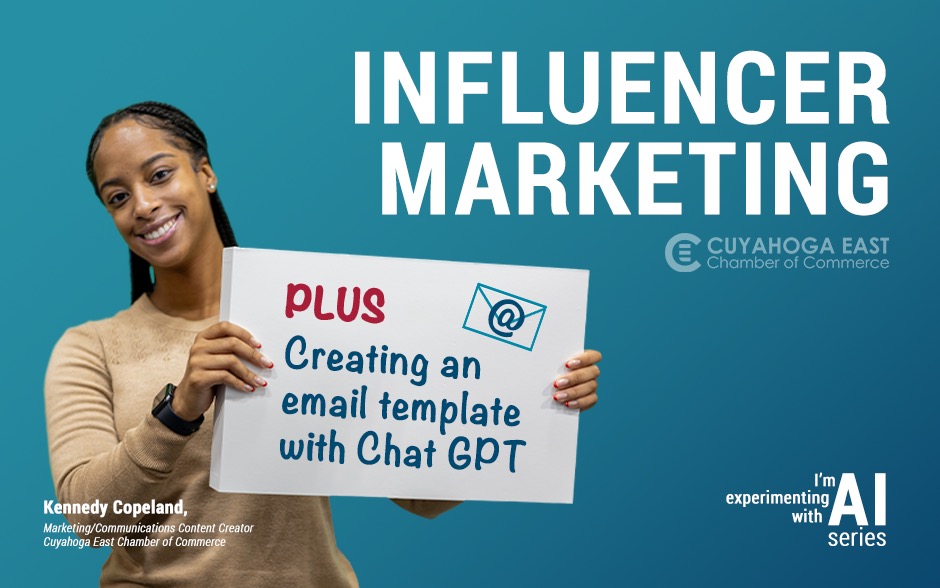 Welcome back to my series, "I'm Experimenting with AI – Give Me 25 Overlooked Ways to Grow Your Small Business." If you missed my original post, where I talked about my experiment, Chat GPT, and prompts, you'll find it here. You can sign up for a Chat GPT account here.
This week, I asked Chat GPT to write a blog post expanding on item #11, Influencer Marketing, from Chat GPT's original list of 25 Overlooked Ways to Grow Your Small Business. To experiment more with Chat GPT, I wanted to conclude with an email template I could use to send to a variety of influencers who will help me achieve my goal of small business partnerships through influencer marketing.
I wrote the following prompt, "Let's try this with #11 Influencer Marketing. Write an article about the importance of Influencer Marketing as an often overlooked way to grow my small business. Use approximately 600 words. Conclude with a template email that can be sent to an influencer, asking them to promote my company's deal." Below, unedited, is what Chat GPT gave me.
While I'll look for our readers to provide accurate feedback, I checked for plagiarism using Grammarly.
Why You Shouldn't Overlook Influencer Marketing for Your Small Biz
Hey, small business owners, listen up! We all know running a small biz isn't a cakewalk. You've got a million things on your plate. Ads, social media, customer service—you name it. But have you considered influencer marketing? It's not just for the big dogs, you know. Here's why it should be on your radar.
Easy Access to a Big Crowd
Influencers already have the audience you want. They've got loyal followers who trust what they say. Imagine this: one post from an influencer can get your product in front of thousands—maybe even millions—real quick.
Trust Factor
Ads are good, but let's be honest; people are a bit tired of them. A recommendation from someone they trust? That's gold.
Budget-Friendly
Think influencers are too pricey? Think again. Some might work for free products or a small fee. Plus, you only pay for the shoutout, not for each click or view. Not a bad deal, right?
The Real Deal
Real people give real reviews. Influencers will try your product and give their honest opinion. Their followers eat that up.
How to Do It Right
Do Your Homework: Find an influencer who fits your vibe. Make sure they talk to the crowd you want to sell to.
Make Contact: Reach out. Be real, not robotic. Offer a deal they can't refuse.
Plan the Deets: Set the date, the post type, all that jazz. The clearer, the better.
Keep Tabs: Once it's live, watch those numbers. Traffic, likes, sales—you want to know it's working.
Keep It Going: If it worked, why stop? Keep that relationship strong for future collabs.
Here's a quick email template you can use to hit up potential influencers:
Subject: Partnership Opportunity: Let's Boost Each Other Up!
Hey [Influencer's Name],
Big fan of your work on [Platform]. Your recent post on [Topic] was spot-on!
I'm [Your Name], the owner of [Your Company], and I think we could both benefit from teaming up. How about we send you [Your Product/Service] for free, and you give us a shoutout if you dig it?
We're a small biz, but we've got big dreams. And we think you're the perfect person to help us reach more people. Plus, your followers get to learn about something cool. Win-win, right?
Let me know if you're interested. Can't wait to possibly work together!
Cheers,[Your Name]
And there you have it. Influencer marketing is a game-changer. Don't sit this one out just because you're a small player. Get in the game!
Thank you for taking the time to join me in my experiment. I look forward to continuing in this series. Using the form below, give me your feedback on my experiment using Chat GPT and suggestions on writing better prompts. You can also reach me at Kennedy@cuyeast.org.
Share This Story, Choose Your Platform!
If you enjoyed reading this, then please explore our other articles below:
With a CuyEast Sponsorship you'll benefit by unparalleled exposure and influence to a diverse audience, comprised of entrepreneurs, small [...]