Scaling Your Business: Lessons from Successful Entrepreneurs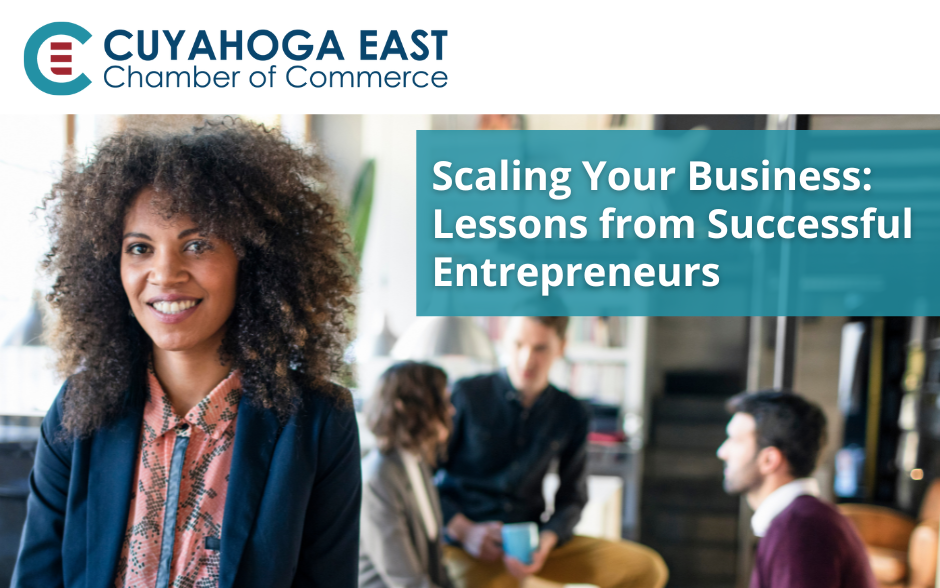 Are you an entrepreneur looking to take your business to new heights? Scaling a business can be a challenging and complex process, but you don't have to navigate the path to growth alone. Learning from successful entrepreneurs who have already traversed the journey can provide invaluable insights and guidance.
Planning and executing a business scaling strategy
Many factors can make or break your business, including scaling your operations towards growth. At some point, your business demand could rise rapidly resulting in a sharp spike in sales. Of course, this scenario is good news for every entrepreneur. Here are a few things to remember from Strategy Driven on how to create a successful scaling strategy.
Plan your success

Make a plan for your growth and set goals. How big do you want to grow, and what does success look like for your business?
Check your finances

You need an in-depth understanding of your finances. What are the short and long-term funding requirements you need to execute your strategy? Are you sure about the source of funding?
Housekeeping

As you expand, you need to keep track of all of your customer contacts, and you might need a reliable CRM tool to help. What are you using now that can take your organization skills to the next level?
The challenges of growing a business–and how to meet them
Info Entrepreneurs reminds us that growing businesses face different problems and opportunities demand different solutions. What worked a year ago might not be the best approach for today. All too often, avoidable mistakes turn what could have been a great business into a dud. Here's what you need to do:
Keeping up with the market.

Market research isn't something you do as a one-off when you launch your business. Business conditions change continually, so your market research should be continuous as well. 
Monitor cash flow and financial management.

Good cash flow control is important for any business. For a growing business, it's crucial. Cash constraints can be the biggest factor limiting growth
Refine your problem solving skills.

New businesses often run in perpetual crisis mode. Every day brings new challenges, so find ways to better prepare yourself for the troubleshooting.
Entrepreneur Succes Stories
Harvard Business School says if you're exploring entrepreneurship, or are in the early stages of launching a venture, it's important to learn from others to avoid common pitfalls and discover which decisions impacted a company's survival. Here are stories of successful entrepreneurs to inspire your entrepreneurial journey.
Adi Dassler of Adidas

Dassler's shoemaking career began in his mother's bathroom in a small town in Bavaria, Germany. It was there that Dassler began designing and cobbling shoes and decided he wanted to make the best possible sports shoe for athletes. Dassler was committed to standing out in the market by gathering feedback from athletes about what they looked for in a shoe, what pain points could be improved on, and how they felt about his early models.
Melanie Perkins of Canva

Perkins' goal to create an affordable, simple, online design tool was originally turned down by over 100 investors. It took three years of her pitching process before Canva received its first investment. Perkins credits this investment to a shift in her pitching strategy–leading with the relatable problem Canva aims to solve.
 

Neil Blumenthal, Dave Gilboa, Andy Hunt, and Jeff Raider of Warby Parker

The idea came to Blumenthal in the middle of the night, and he emailed three friends—Gilboa, Hunt, and Raider—and asked them if they wanted to start an online company to sell prescription glasses at an affordable price. Warby Parker was poised to launch just after the four founders graduated with their MBA degrees in the spring of 2010.
What advice do you have to give to rising entrepreneurs trying to reach their goals? Visit our Facebook and LinkedIn to join the conversation.
Share This Story, Choose Your Platform!
If you enjoyed reading this, then please explore our other articles below:
We're launching in 2022 as a next-generation, future-ready Chamber of Commerce. CuyEast members get more with a growing list of [...]