Small Business Website Trends on the Rise for 2023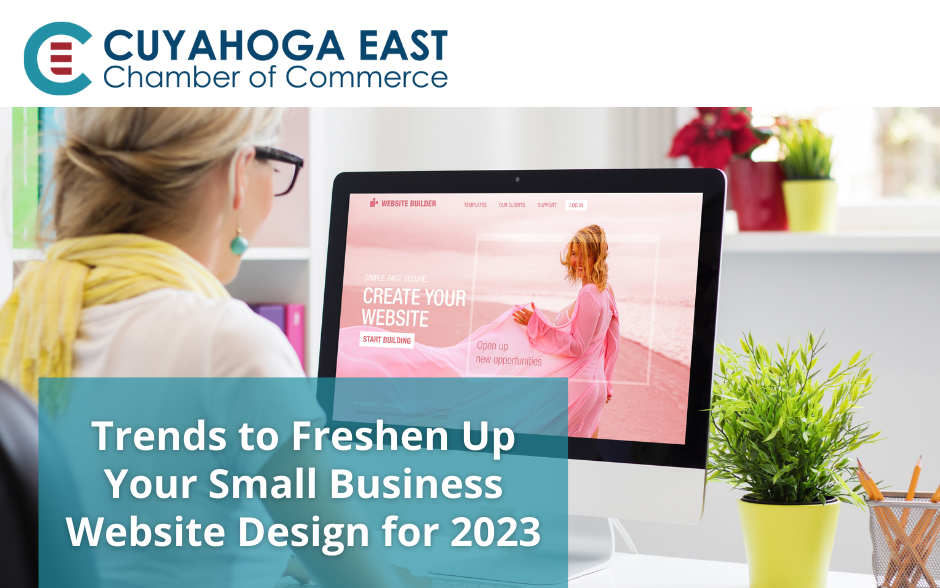 What will your website need in 2023 to be a top contender amongst small businesses? Trends for the new year are leaning towards more informal eye-catching graphics while holding on a little tighter to clean and crisp web designs. Here are a few tips to remember when building out or freshening up your business' site.
Digital Marketing Trends
Digitial marketing tools are evolving to help business owners make stronger connections with their customers. Digital Marketer outlined a few applications that can help businesses increase influence and sales: 
Real-time Messaging

: Offering a chat feature provides customers with the opportunity to get answers to their questions quickly and with a more personal touch. It can help you get to know your customers better and increases your chances of making a sale.

Video-Based Content

: Moving graphics are becoming more popular with website visitors wanting to see less text. Videos grab more attention from the user and is a great way to promote your business.

Influencer Marketing

: Know someone who has the same niche as your business and has a large following for their brand? Work together to build up your influence, promote each other's brands, and grow both audiences. 
Read the full article from Digital Marketer here.
Web Design Trends
The look and feel of your website is just as important as the content. Your website needs to be accessible, user-friendly, and attention grabbing if you want users to stick around. TheeDigital shares web designs that will work in the new year:
Read the full article from TheeDigital here.
Immersive and Interactive Trends
Using artificial intelligence (AI), virtual reality (VR), and augmented reality (AR) components on your website may seem like a new trend, but it's truly just becoming more accessible. Check out these insights from Jasper.Studio: 
AI and machine learning

can take the guesswork out of designing your website and produce something that fits your audience.

VR

is still largely used for gaming and entertainment, whereas

AR

is coming on board for more practical applications. Businesses can use AR to create interactive 3D models of products or to take users on virtual tours.

Responsive design

ensures a website will be easy to navigate regardless of screen size. It will also help your website to load quickly and effectively across all devices.
Read the full article from Jasper.Studio here.
Do you have small business tips or tricks you would like to share for the new year? Publish your content with WHACC! Click here to get started.
Share This Story, Choose Your Platform!
If you enjoyed reading this, then please explore our other articles below:
We're launching in 2022 as a next-generation, future-ready Chamber of Commerce. CuyEast members get more with a growing list of [...]