Take advantage of free resources to publish your business content.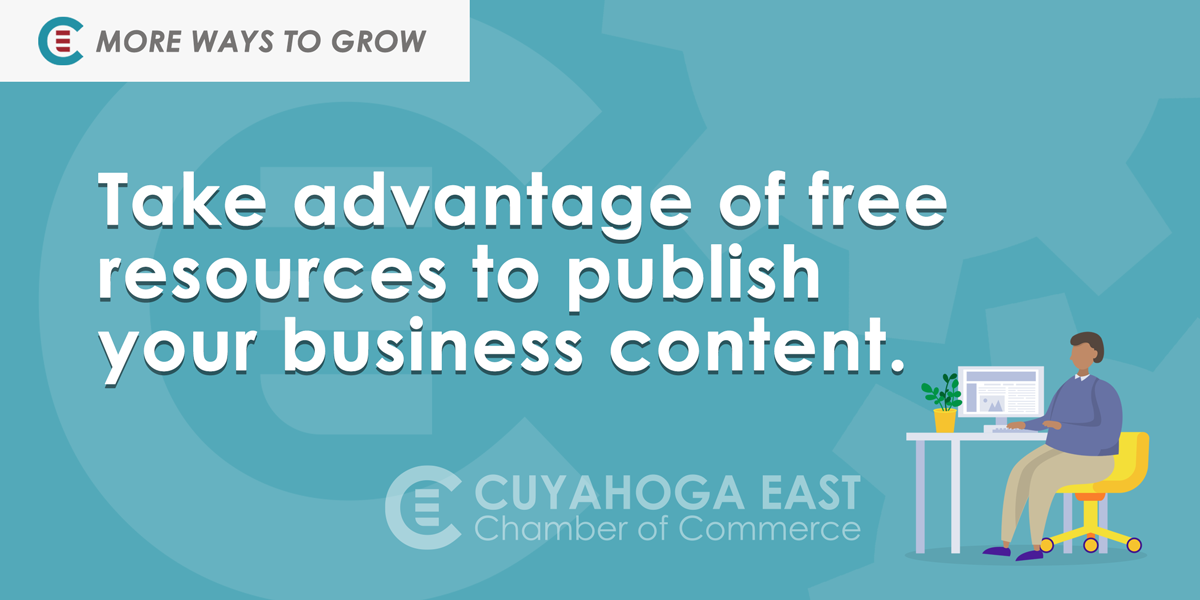 Your business is in luck if it has a marketing or public relations department, or an individual who can take on the task of routinely crafting company announcements to share with the public. It may lead you to wonder how can you get the most exposure for your written content. Publishing your content on your website and social channels is a great start, and there are even more free online resources you can use, including your Chamber of Commerce, to help your content reach a wider audience. 
Duct Tape Marketing says consistently producing sharable written material, properly infused with high-level search engine optimization (SEO) keywords, can be a big help for spreading your news. The key is to remember that building up a good audience for your content probably won't happen overnight. Focusing on being consistent with publishing and nailing down the best keywords or phrases within your content is all part of the process.
If you're looking for new outlets to share your content, such as press release distribution sites or free content sharing vendors, they are easy to find with a simple google search. According to Biq, the LinkedIn publishing platform, Medium, and Quora are all places you can share your content for free with a much broader audience. Depending on the platform you choose to publish on, you may have to rework your content to match the specific audience's style. For example, Quora is designed for individuals to ask specific industry questions and get answers from the public. Taking a blog post or press release and using its content to answer a question is one way you can repurpose your content and gain more exposure.
For your reference, here's a brief list from The SMB Guide of press release distribution sites that allow you to post content for free. (Please Note: Depending on the site, some restrictions for publishing may apply such as word count maximums, posting limits, image upload ability, required registration, etc.)
PRLog

Newswire Today

PR.com

Online PR Media

PRFree
[Click here for five more suggestions.]
What are the benefits of consistently publishing online content? HubSpot says audience retention, lead generation, and brand awareness are just a few of the perks businesses receive in return. 
Interested in getting your content published on the CuyEast Chamber website? Publishing content with us is always free for members and offers all the benefits of publishing to a free press release distribution site, plus more. Reap the benefits of sharing your expert tips, blog posts, press releases, industry news, and more. We have a simple form you can complete, and we'll take care of the rest. 
Learn more or start publishing on the CuyEast Chamber website today here.
Share This Story, Choose Your Platform!
If you enjoyed reading this, then please explore our other articles below:
We're launching in 2022 as a next-generation, future-ready Chamber of Commerce. CuyEast members get more with a growing list of [...]