The Keys to Growing Your Business with Generation Z Employees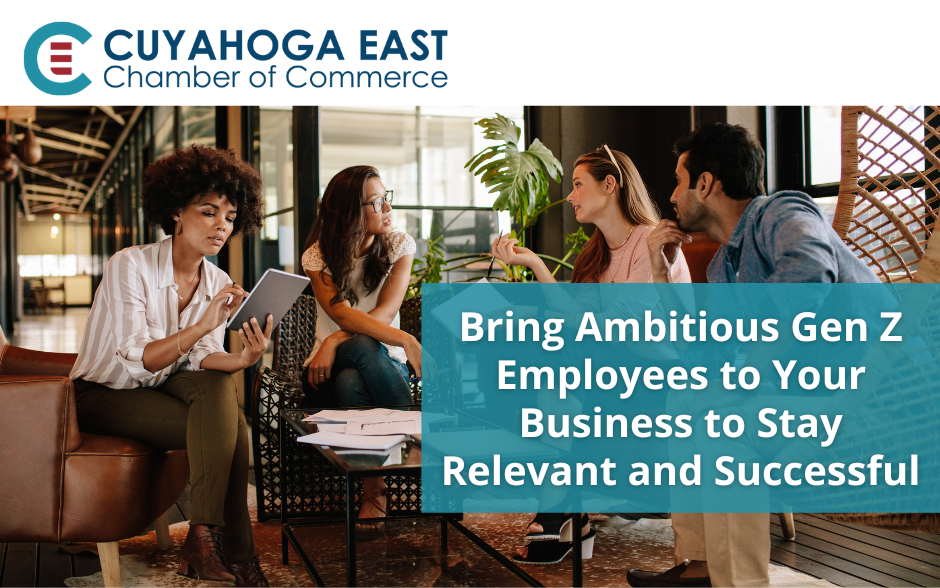 Generation Z employees are bringing a fresh perspective to the workplace that is more aligned with what some of your customers may be thinking as well – life can be easier when all aspects of your day-to-day can work together. 
Yahoo! Finance says Gen Zers, born between 1997 and 2012, have grown up as digital natives that are more interested in doing work they love. If they are going to start a career, it's going to be with a business that respects social responsibility, prioritizes activism, and is aware of environmental issues. 
How can this post-millennial generation with no one older than 23 years old help to grow your business? They know what the current and up-and-coming audience wants because they want similar things. Yahoo! Finance says Gen Z is changing the workplace and connecting better with customers by focusing on:
Improving work-life balance

to encourage the separation of career and personal life.
Being more socially aware

and cognizant of diversity, equity, and inclusion initiatives. 
Pushing for more accommodations

for their learning, physical, and emotional needs or disabilites.

Prioritizing mental health

by asking for more company-offered self-care assistance.

Being good with technology,

and having an eagerness to test whatever comes next.
[Read more from Yahoo! Finance here…]
Gen Z Employee Expectations
Recruiting Gen Z employees is just half the battle, as you will be tasked to find ways to retain them as well. Business Insider points out that Gen Z employees are seemingly already burnt out, which is a leading cause of the ongoing Great Resignation ignited by the pandemic that changed workplace environments and how companies do business altogether. Gen Zers will be willing to join your team, but they have some conditions. Here's what Business Insider says Gen Zers are looking for as they continue the trend of quitting one job to hop to another:
It's not about the money

. Gen Z employees will accept a position with a better work environment over a better salary. The Lever report found that 42% of Gen Zers would rather be at a company that gives them a sense of purpose than one that pays more.

They have an entrepreneurial drive, and they want to change the world

. Bringing on Gen Z employees means you will need to offer them more creative freedom, be open to their ideas and innovations, and follow their lead on technology-driven initiatives.

Working from home, at least in part, is a must.

A new report from ADP Research Institute found 71% of 18 to 24-year-olds said they would look for another job if their employer required them to return to the workplace full-time.
[Read more from Business Insider here…]
Checklist: How to Improve Your Gen Z Interview Process
Now that you have a better idea of what makes Gen Z who they are and what they find essential in the workplace, use this checklist to enhance your chances of finding the right recruits for your business. Handshake surveyed students and recent graduates to find out what employers could do better in the interview process. Here's what was discovered and how you can use it to your advantage to grow your business:
Bring a variety of interviewers to the table.

75% of Handshake's survey respondents said they value meeting team members up front, including HR and potential co-workers.

Plan a quick interview process.

Over 70% said an interview process of 2 weeks or less is an ideal experience.

Get participation from team leadership.

63% said they'd like to meet a team leader while interviewing.

Have a clear communication plan in place.

Nearly 60% said the interview experience would be better with clear communication from the recruiter or coordinator.

Have the hiring manager provide feedback.

46% said receiving direct feedback from the hiring manager makes the interview experience better.
[Read more from Handshake here…]
Does your business have an essential employee or team leader to Spotlight? Guests on the CuyEast Chamber Live Series can share stories about their business including successes, challenges, innovations, and more! CLICK HERE to complete the signup form.
Share This Story, Choose Your Platform!
If you enjoyed reading this, then please explore our other articles below:
We're launching in 2022 as a next-generation, future-ready Chamber of Commerce. CuyEast members get more with a growing list of [...]