ERIEBANK hosts ribbon-cutting ceremony at new branch in Woodmere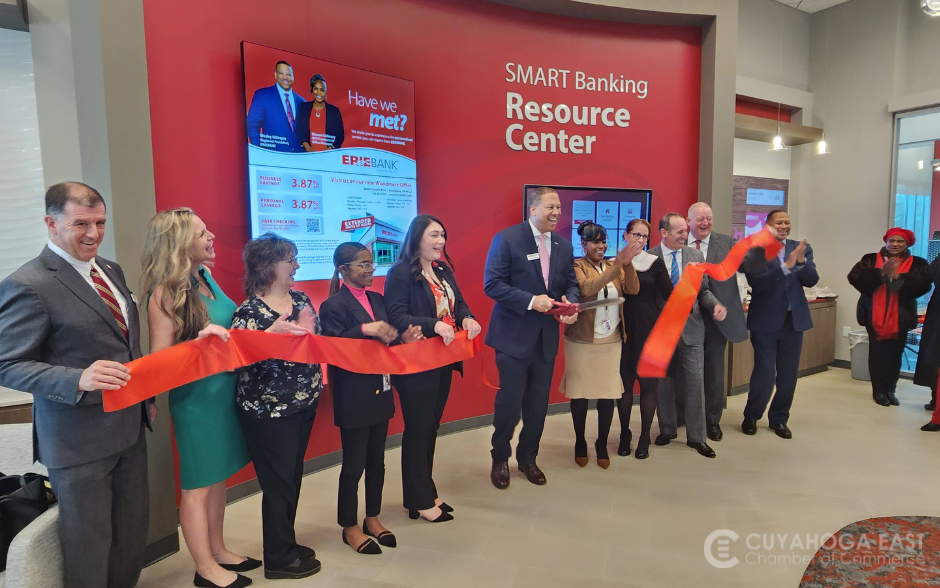 The Cuyahoga East Chamber of Commerce team was at the ceremonial ribbon-cutting to welcome ERIEBANK to the Village of Woodmere.
Located at 28029 Chagrin Boulevard, ERIEBANK Regional President Wesley Gillespie kicked off the event at the new branch by introducing his team, including Commercial Office Manager Sharon Calloway and Senior Vice President and Market Manager Katie Jones.
"It's a great community," Gillespie said about the Village of Woodmere. "It is physically located near the freeway, with close proximity to downtown and further east. So from a geographic perspective, it's a great location. It's really the right community that we think we can add value to."
Village of Woodmere Mayor Benjamin Holbert was thrilled to be at the event and had great comments about the bank's presence in the village.
"I'm so so excited they're here," Mayor Holbert said. "Wes Gillespie and his team have done extraordinary things. I'm looking forward to the relationship, and I just hope the community will embrace them as much as we have."
CuyEast Chamber's Steve Petti was happy to support the arrival of the new business in the Village.
"A big congratulations goes to ERIEBANK and the Village of Woodmere on a successful opening event," Petti said. "It's always great to see new businesses enter and thrive in our region, and we are excited for the great benefits ERIEBANK brings to our business community."
To learn more about the ERIEBANK Woodmere branch, visit https://eriebank.bank/woodmere.
Share This Story, Choose Your Platform!
If you enjoyed reading this, then please explore our other articles below:
We're launching in 2022 as a next-generation, future-ready Chamber of Commerce. CuyEast members get more with a growing list of [...]