Getting Started with Strategic Partnerships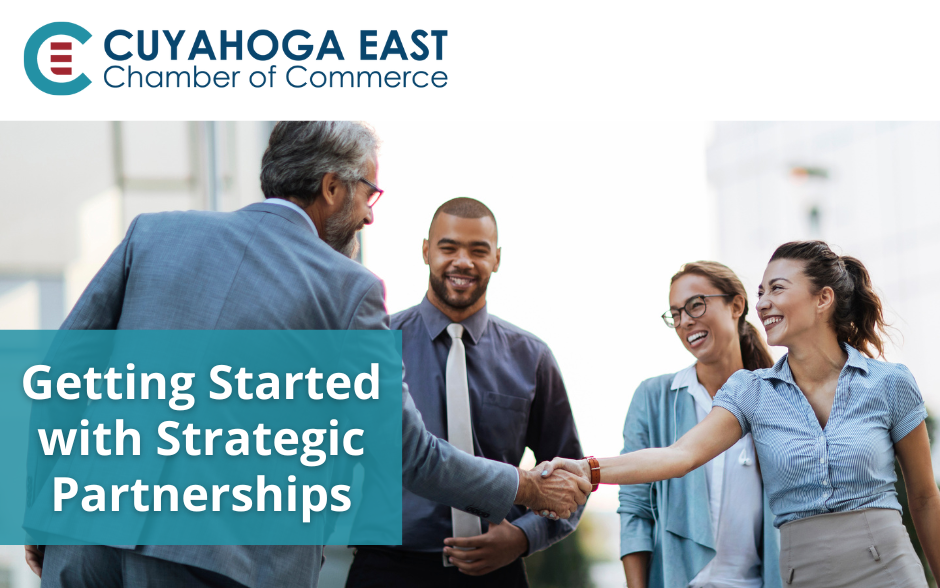 Leveraging strategic partnerships to grow a business can be extremely beneficial for organizations looking to build strong connections and increase brand awareness. A good partnership can equal more positive exposure for your products and services, as well as increased influence for your brand.
Types of Strategic Partnerships
LinkedIn says working with strategic partners can put you in the ring with link-minded individuals with similar visions and goals. This can help smaller businesses compete with larger organizations. 
Here are three different types of strategic partnerships from LinkedIn:
Joint venture:

A combination of two companies using their resources together to reach a common goal. Each business has responsibilities, including expenses and revenues. Both companies remain their own entities.
Equity strategic alliance:

Either one company buys equity in another company, or both companies buy equity in each other's companies. 
Non-equity strategic alliance:

Two or more organizations come together to sign a contract to combine their resources. There is no separate entity created, and no equity is shared.
[Read more from LinkedIn here…]
Insider says businesses are looking for strategic growth opportunities more now than ever. A PwC Pulse Survey found nearly half of CEOs surveyed said it is "very important" to seek out joint ventures and alliances. 
Here's more detail about the benefits of securing strategic partnerships with other local entities:
You can gain access to a new pool of customers.

You can reach a new market and diversify your revenue stream.

You can increase brand awareness for your business.

You can improve customer service by offering access to more goods and services.

You can grow brand influence when customers see you join forces with other trusted brands.
Now let's dive right into putting the idea of generating more strategic partnerships into action. SCORE outlines eight steps that will help you achieve success when seeking out new partnerships:
Determine Goals.

Ask yourself:

What kind of partnership is it?

What do you want out of the partnership?

Do you want to expand your reach?

Do you want to offer more convenience for customers?

Do you want access to experts?

Identify potential strategic partners.

Look for:

Businesses that share your business' core values.

Businesses committed to the same/similar sustainability policies.

Businesses that have what you need to achieve your goals.

Do your homework.

Check out:

The potential partner company's online reputation.

Other businesses that have partnered with your prospect.

The strength of the company's brand.

Get to know the prospective partner.

Try:

Connecting on social media.

Meeting in person.

Build a relationship.

Learn from the prospect about their business, its current situation, future plans, and long-term goals.

Create a win-win situation.

Make your move by:

Presenting a professional proposal that emphasizes how the partnership can benefit their company.

Offering open communication around details of contracts, compensation, etc.

Make adjustments when necessary to keep all entities happy.
Looking to make a strategic partnership in our region? That's why we have Member Match-Ups and Meet-Up Groups. We'll help you find a partnership match within CuyEast membership, or you can start your own partnership Meet-Up group! Give it a try.
Share This Story, Choose Your Platform!
If you enjoyed reading this, then please explore our other articles below:
We're launching in 2022 as a next-generation, future-ready Chamber of Commerce. CuyEast members get more with a growing list of [...]