How to Create a Business New Year's Resolution that will Succeed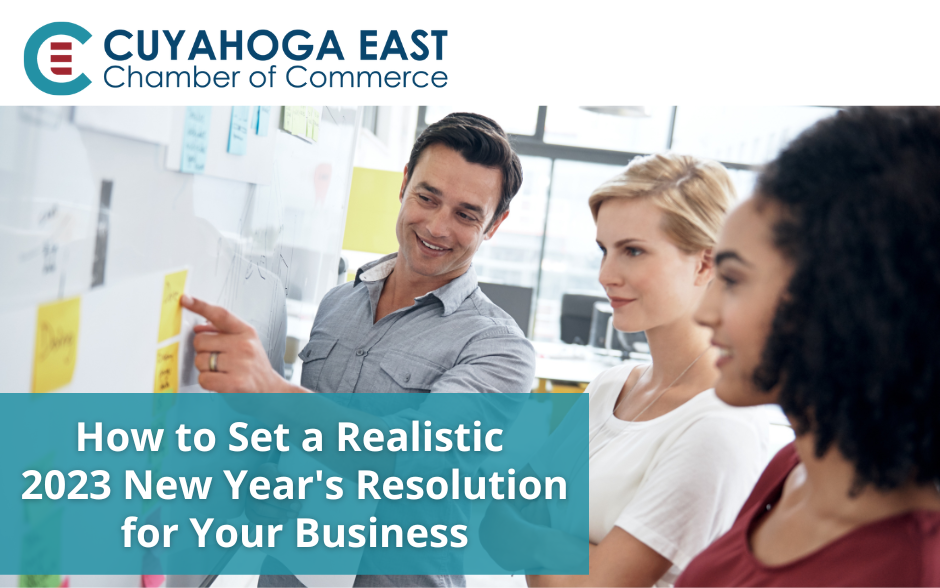 Is your business ready for the new year ahead? Business owners can make 2023 their year if they focus on accomplishing specific goals that will help grow their business. If you're already planning to set a personal New Year's resolution or two, try setting one for your business as well. Intentional growth means actively seeking opportunities that challenge us to enhance our skills and character. Here's how you can set your intentions for business growth in 2023.
How to set realistic resolutions and goals
Around 80% of New Year's resolutions are forgotten about and abandoned by February. To make a strong plan for completing your goals for 2023, focus on making sure your goals are realistic and achievable. 
Start documenting your goal ideas and aspirations, and get ready to put at least one of them into action. GoDaddy has these tips on how to set realistic resolutions that have a higher likelihood of being executed:
Narrow your goal down to one.

Reflect on your top priority for your business and stick with creating an impact in that single area. 
Be specific.

A New Year's resolution should be well thought out, just like any other S.M.A.R.T. goal that is specific, measurable, achievable, relevant, and timed (with a deadline). 
Build rewards.

Generate motivation by celebrating wins as you reach milestones along the way to completing your goal.
Share your goal.

Post your business New Year's resolution on social media, share it on your website, and put it in your email newsletters. A public commitment will make the goal more real to you and encourage you to reach success.
Schedule regular check-ins.

Hold yourself accountable and schedule biweekly or monthly check-ins to keep your goal on track.
[Read more from GoDaddy here…]
2023 New Year's Resolution Ideas for Business Owners
Try to come up with a fresh goal for the new year. If the goal is too generic, like increasing business sales or drawing more customers, your plan may fall flat. Also, if you keep the same goal every year, your business will miss an excellent opportunity to take a risk on something different and potentially profitable. 
Success has a few ideas on how business owners can try a new approach to New Year's resolution ideas. Consider one of these options:
Engross yourself in learning something new. Success says becoming a deep practitioner in something, whether for professional or personal development, is a great goal for strengthening your influence with your audience. It can help you become more relatable and draw interest from potential new customers.

Review how you spend your time between 7 p.m. and 2 a.m.

Use this unique time to find ways to integrate your passion into your business or discover ways to advance your career. Use the time after work and before bed more wisely.
Stop complaining.

There are plenty of ways to work on being more positive throughout your workday. More success will come to you and your business if you focus on positivity, optimism, and resilience. Start a routine that keeps you in the right headspace to position your business for success.
[Read more from Success here…]
Technology that Can Help New Year's Resolutions Succeed
A resolution has a better chance of being kept if its progress is tracked regularly. Though your will to succeed will always be the number one defining factor, Forbes shares a few ways you can use technology to keep you motivated and inspired to reach your goal.
Use an app. Mobile applications can help you keep track of every detail of your New Year's resolution. Find one that works to help you hold yourself accountable and offers a milestone setting.

Use gamification. Motivate yourself and your team to accomplish business goals by tying it to friendly competition. There can be a lot of fun in working together, and individually, to accomplish an organization-wide New Year's resolution.

Use automation.

Some business goals can be achieved with the help of AI bots or automated software applications. Look for affordable and innovative solutions to help you accomplish your business' goal. 
If you read this far, it's time to show your cards! Head over to the CuyEast Chamber Facebook or LinkedIn to share your business' New Year's resolution for 2023. Leave it in the comments to increase your goal's chance for success!
Share This Story, Choose Your Platform!
If you enjoyed reading this, then please explore our other articles below:
We're launching in 2022 as a next-generation, future-ready Chamber of Commerce. CuyEast members get more with a growing list of [...]