Stay Relevant on the Top Social Media Networks for Business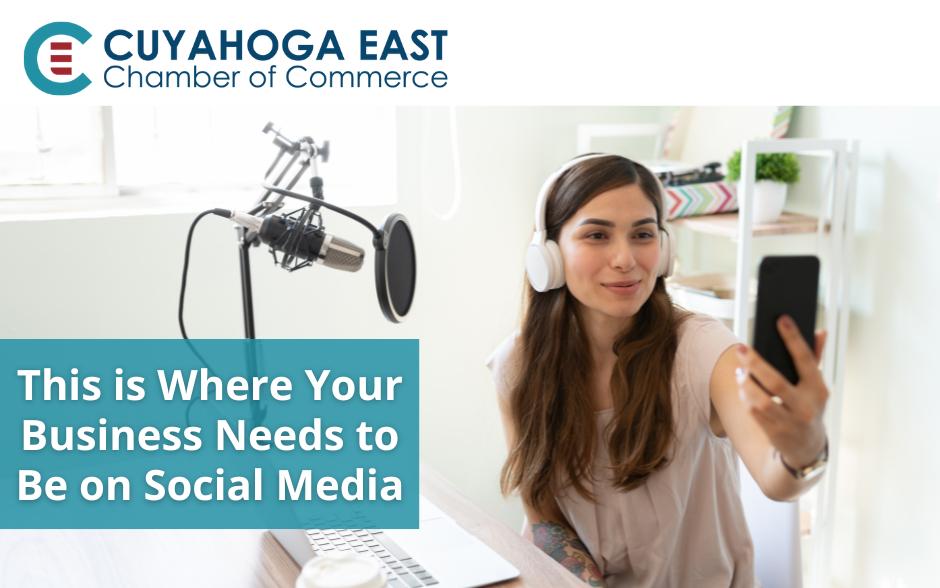 There is a plethora of information on the Internet about which social media networks are the most popular, as well as which ones will work the best for growing a business. What we discovered is only some of the most popular social media networks across the world are good choices to encourage business growth. Take a look at our research, where we learned what social networks are at the top of most lists and which ones are best to help you boost your business.
Top Social Networks in 2023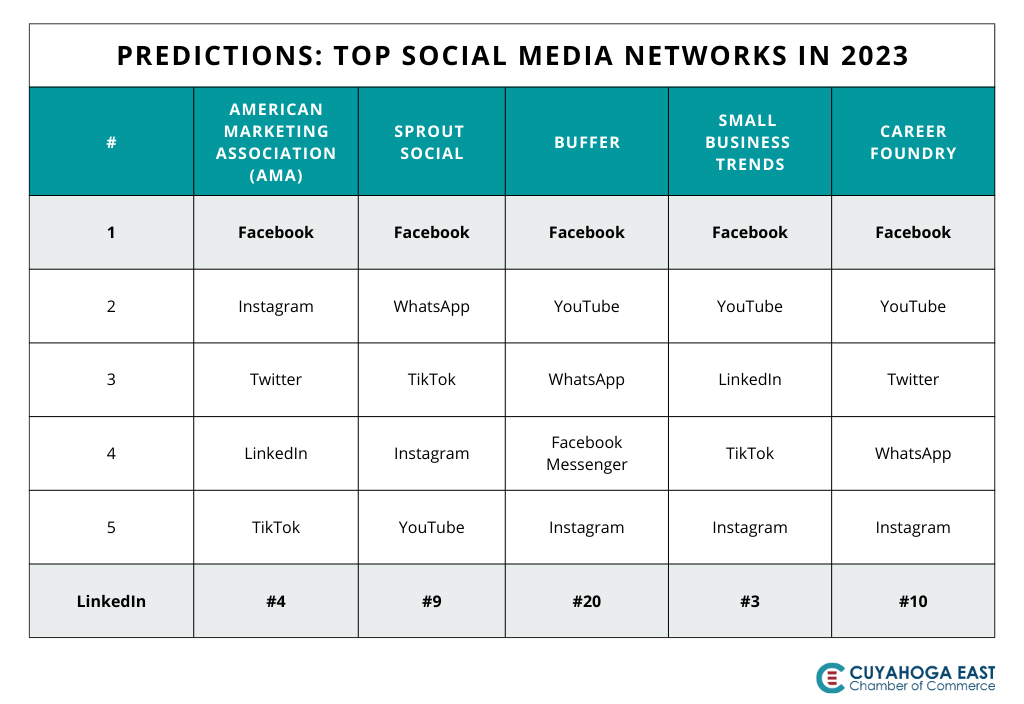 Facebook is the most popular social network in the world today, with nearly 3 billion users, according to Shopify. Shopify says that means nearly two out of every three of the more than 4.5 billion social media users across the world are active on Facebook. YouTube is the second most popular, with more than 2.5 billion users, and is closely followed by WhatsApp, with more than 2 billion users. 
The American Marketing Association (AMA) says most of Facebook's users are between the ages of 25 to 44. This broad audience offers more opportunities for successful engagement through organic and paid advertising. AMA also says Facebook does a great job of connecting customers with brands, and the Metaverse is on the brink of opening up more immersive experience opportunities for brands to use with their audience. 
What about Instagram, TikTok, and (our favorite) LinkedIn? Facebook makes the list of top social channels to promote your business, and there are a few other networks to consider if you want to build up your social influence and generate real growth.
[Read more from the American Marketing Association here…]
5 Best Social Networks for Business
Here's a brief overview of the top social network channels for growing your business:
Sprout Social

agrees that

Facebook

is one network that can not be ignored, with 71% of consumers and 65% of marketers planning to use the platform to its full potential in 2023.
Users on

WhatsApp

send 100 billion messages every day, and now the app is integrated with Facebook and Instagram.

AMA

says WhatsApp can facilitate one-to-one conversations with customers (with their permission). The network can be used for customer service support or other chat solutions.
Instagram

is expected to surpass Facebook as Meta's main revenue source by 2024, according to

AMA

. Instagram has more than 2 billion users, a pretty even split between male and female audiences, and it appeals to the younger 18 to 34 age group. If a business is trying to target Generation Z, Instagram is the place to be.
CareerFoundry

says

Twitter

's power as a place of discussion, entertainment, news, opinion, business updates, and more is essential to its popularity. For some, it feels like information overload. For others, it's the perfect location to increase brand awareness and engage with a tech-savvy audience of more than 300 million monthly users.
LinkedIn

is making itself known as the largest professional network in the world, logging more than 300 million monthly users as well.

CareerFoundry

says what started as a site for job seekers and those looking for a career change has morphed into a platform where 64% of all visits from social media lead straight to a company's website. More than 85 million companies are listed on LinkedIn, which makes it a prime location for B2B and D2B communications. 
Fun Fact: Yes, the messaging app SnapChat and the video-sharing app TikTok are rising in popularity, but they have a ways to go to catch up to the leading competitors. In the U.S., SnapChat currently has 87 million users and TikTok has 180 million users. Early adopters can benefit from using these apps after proper training and planning.
Social Network Trends in 2023
What is coming down the line for social media in 2023? How can it help businesses grow and increase influence with their audiences? Here are a few good news predictions from Social Media Today on what will happen for Facebook, WhatsApp, Instagram, Twitter, and LinkedIn in 2023:
Facebook:

There are plans for more AI-created content. Facebook is looking to take a note from TikTok and start showing the best content from all users, instead of just from your friends. The platform is also looking to lean more into direct messaging engagement and how to leverage it to make strong connections with its audience.
WhatsApp:

More ad options for driving click-to-message engagement can be expected in the new year.
Instagram:

Though most of its AI work has not taken heed with its audience yet, Instagram wants to do more with AI and Reels. It is also looking into a full-screen feed test, and plans to introduce augmented reality and 3D posts.
Twitter:

It looks like 2023 will be the year Twitter has a bigger subscriber push, longer tweets, and additional verification parameters. This is a channel to watch as significant platform and operational structure changes go into effect.
LinkedIn:

The platform will use 2023 to provide more data to its users, add more linkage to learning courses, and improve video connection tools.
[Read more from Social Media Today here…]
Follow us, and we'll follow you! Find news, updates, and special announcements about CuyEast Chamber when you follow us on Facebook, LinkedIn, and Instagram. 
Share This Story, Choose Your Platform!
If you enjoyed reading this, then please explore our other articles below:
We're launching in 2022 as a next-generation, future-ready Chamber of Commerce. CuyEast members get more with a growing list of [...]