Support Black-Owned Businesses in Our Region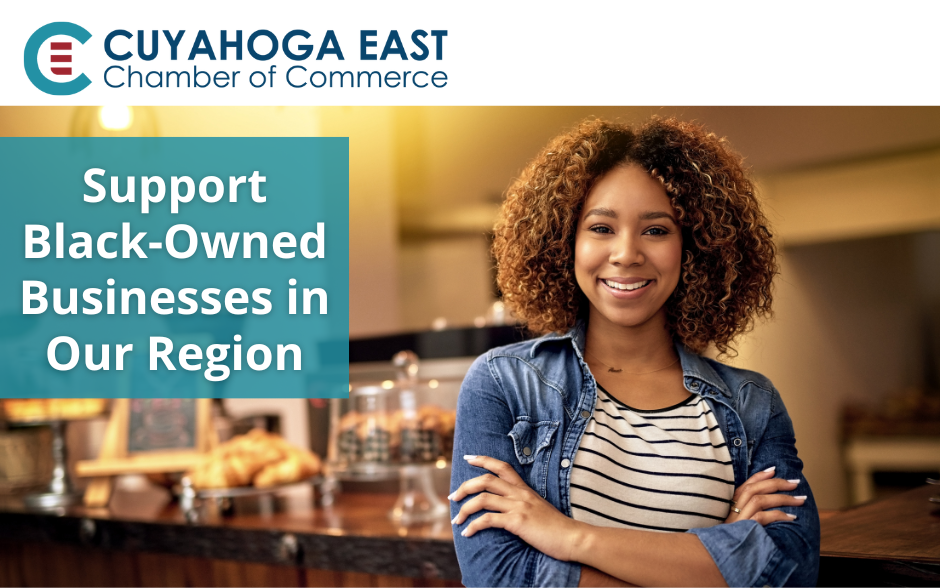 Black History Month has arrived. Instead of going into the details of how you can celebrate Black History Month with your employees, customers, and other ways for your business, we are going to share a few products, services, and local businesses in our region that you can show support to this month.
Local Black-Owned Businesses on Cuyahoga County's East Side
There are quite a few restaurants and other businesses on the County's east side that are run by Black entrepreneurs. We found these businesses through The Cleveland Bucket List. Show your support by visiting, or even frequenting, one of these locations:
CuyEast Chamber Sponsor – Breaking Chains, Inc.
23300 Chagrin Blvd., UNIT 201, Beachwood
Nonprofit providing personal and professional housing counseling and financial literacy services. The organization works with individuals and businesses.
1400 E 105th St, Ste 7, Cleveland
The owner won a shark tank-like pitch competition as part of a neighborhood transformation retail incubator program. It was an opportunity for Cold Brew Coffee to start in Cleveland. 
2307 Lee Road, Cleveland Heights
A bakery originally started as a licensed home-based bakery called Craig's Divine Desserts. All baked goods including cupcakes, cookies, cakes, and pies are prepared on-site.
4604 Turney Road, Garfield Heights
Professional beauty and barber salon for children that specializes in healthy hair.
2800 Euclid Ave, Cleveland
 Catering company offering 100% vegan comfort food. The restaurant saw an opportunity to get a start after more and more Americans will be coming vegans.
27970 Chagrin Blvd. E-201, Woodmere
Group fitness classes for affordable prices. Offers indoor cycling, boot camps, barre, and yoga.
Find it at local businesses and grocery stores across eastern Cuyahoga County
Stands for "no more artificials." An organic sports energy drink with low sugar and comes in a variety of flavors.
JanPro Cleaning & Disinfecting
25906 Emery Rd, Warrensville Heights
Cleaning services For business owners in need of professional Commercial Services. Cleaning services cover several industries, including medical facilities, civic and community buildings, business and commercial locations, and others.
Cleveland and Warrensville Heights locations
The first location was opened in 1986 at East 58th Street and Euclid avenue. Everything is prepared from scratch.
Cleveland and Shaker Square locations
Casual full-service restaurant that features Southern Cuisine and specialties. some of the original recipes come from the owner of Angie's Soul Food.
Local Black History Month Events this Month
Review this list and see if you can make it to one of these special celebrations of African-American history. We found these local events through allevents.in:
Sat Feb 4, 2023, at 11:30 am to 2:00 pm

City of Cleveland – City Hall: 601 Lakeside Ave E, Cleveland
Wed Feb 8, 2023, at 4:00 pm to 7:00 pm

25225 Fairmount Blvd, Beachwood
 Thu Feb 23, 2023, at 5:00 pm to 8:00 pm

Cleveland History Center, 10825 East Blvd., Cleveland



Tue Feb 14, 2023, at 6:30 pm

Cleveland Heights-University Heights Public Library, 2345 Lee Rd. Cleveland Heights
Tell us how your business is recognizing Black History Month this year. Share your comments on Facebook and LinkedIn. 
Share This Story, Choose Your Platform!
If you enjoyed reading this, then please explore our other articles below:
We're launching in 2022 as a next-generation, future-ready Chamber of Commerce. CuyEast members get more with a growing list of [...]