Telling Your Brand's Story with Video, Written Content, and Digital Assets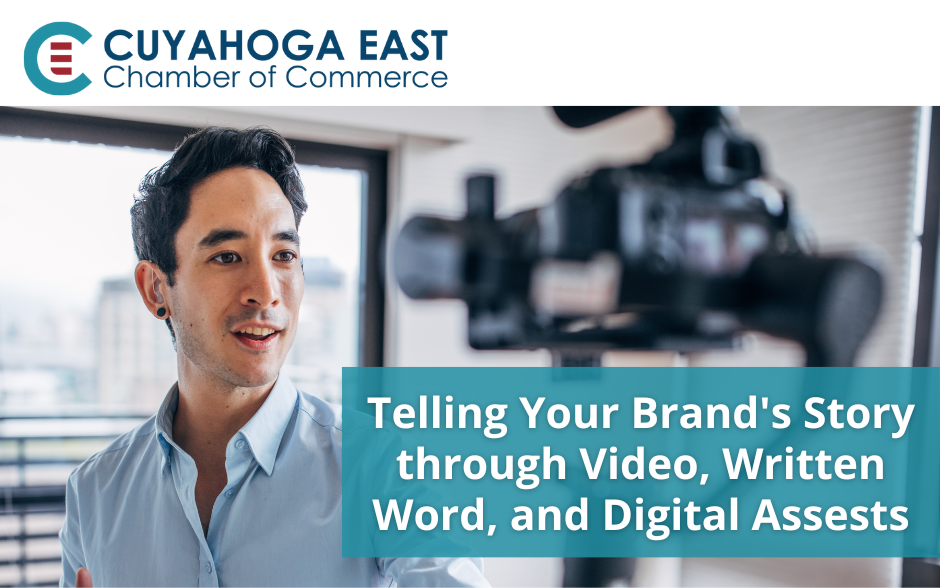 When considering the different ways a brand can tell its story, business owners should focus on where they think they will reach the biggest audience with the most impact. Storytelling can help grow a business by shedding new light on the establishment for potential customers, as well as opening eyes to hidden gems never known about by current consumers.
Today's world is "information overload," and to cut through the clutter, you will have to think of something attention-grabbing and possibly even catchy. Using video, well-crafted written content, and digital assets can offer a new view of your brand to others.
Telling a Story With Video
"Video cuts through like no other medium and engages people on a deeper, maybe even more primal level," said Rob Alderson, Vimeo's director of engagement and community.
According to Vimeo, MotionCue released data that reported 76% of its respondents wanting explainer videos to help them make buying decisions. Nearly 70% said video testimonials and reviews helped them make buying decisions. More than half of the respondents spend a quarter or more time watching videos via social media.
Vimeo said the following elements are needed when storytelling with video:
A theme, or message, that gets a reaction out of the audience.

People and other visuals to provide a point-of-view for the viewers.

Emotion for a more immersive experience.

Sound, including the right music, and a script, which includes the right words.
Telling a Story With Written Content
HubSpot said storytelling is an art that requires creativity, vision, skill, and practice. That means, you may not get a hit on the first shot. However, it also means the more you try the better you will get.
This infographic from HubSpot is insightful and useful for video or written storytelling concepts: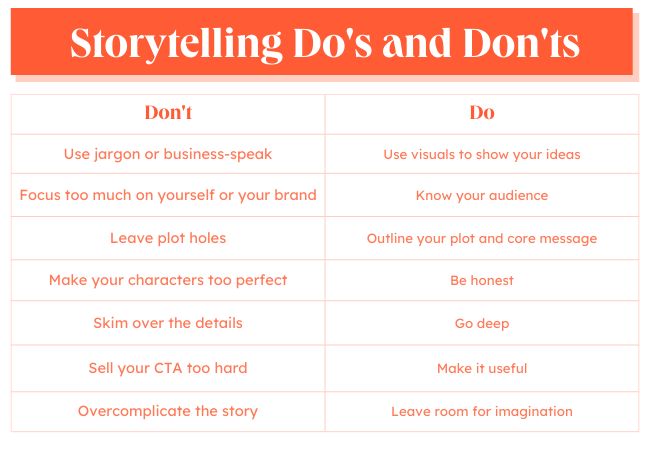 [Read more from HubSpot here…]
Other words floating around written content that promotes businesses are storyselling and persuasive writing. LinkedIn pointed out that storytelling can occur on landing pages, within web copy, in ebooks, through infographics, in social media copy, and in YouTube video descriptions. Every content format is an opportunity to reach the audience on a deeper level with your words.
Here are a few things LinkedIn said to keep in mind when writing your brand's story:
Know your audience

. Write at their level and figure out the niche that will keep them engaged.

Define and highlight the

core message

.

Lay out the

characters, conflict, and resolution

.

Make the story

organized, entertaining, and memorable

.

Weave in your own personality

for added effect.
[Read more from LinkedIn here…]
Telling a Story With Digital Assets
Digital assessment management (DAM) can take your storytelling efforts to the next level. Wedia said consumers are becoming more and more concerned about who the people are behind the brand curtains, and they want to ensure they are using reputable and sustainable products. A business' brand needs to be well thought out, clear, and upfront about what it is to gain loyalty and trust from its audience.
A DAM can help you bring professionals together from multiple departments to tell a story the best way you can. A DAM platform can put your expert writers, graphic designers, videographers, and more in one place where they can share ideas and bring together the pieces in a central location. 
Here are a couple of  examples of solid digital asset management storytelling from Wedia:
Nike

coupled its "Just Do It" slogan with a video of an 80-year-old man jogging across the San Francisco Golden Gate Bridge. For more then 33 years, its one of the most well known slogans in the world, and it resonates with people to this day.

Nivea

's logo is blue and stands for its core values of trust, closeness, and care. It uses its blue brand identity to connect with customers, tell emotional stories, and create engaging campaigns such as "human touch."
How will you choose to share your brand's story? Visit cuyahogaeastchamber.org to request to be a Spotlight guest, publish your written business story, or tell us a success story that would be great for us to share on social media. CuyEast Chamber is here to help you get the word out about your business. You can also share your thoughts on Facebook and LinkedIn.
Share This Story, Choose Your Platform!
If you enjoyed reading this, then please explore our other articles below:
We're launching in 2022 as a next-generation, future-ready Chamber of Commerce. CuyEast members get more with a growing list of [...]